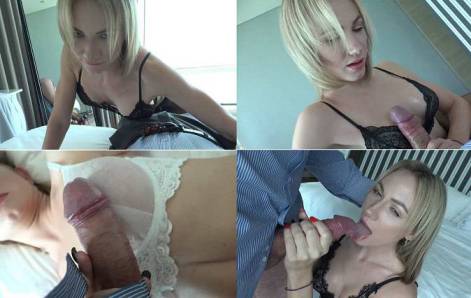 I like to see the texture of bras well. Please refer to the attached image for your preferred camera angle.
For each bra, the allowable shooting time is 5-7 minutes, the beginning of the clip is 3-5 minutes.
Her makeup is natural, her lips are lined only in a brown pencil with gloss. The hair is straight, sometimes wrapped behind one ear (left).
Lady enters the room. She wears sexy clothes. Short skirt, white translucent shirt, black tights, thong, black bra (second) and high heels. She starts to undress, unbuttons her shirt, under it is a black lace bra, then she takes off her skirt, takes off her shirt. Now she only wears a bra, thong and high heels.
So there will be a black bra first, then a white bra, and then a black bra again.
She looks at herself in the mirror and starts caressing her breasts over her lacy bra. At this time, a camera is watching her. She's probably talking about how she loves wearing those lacy bras, how they fit snugly against her breasts, against her nipples. It's so exciting, they're so soft and lacy.
Then her husband enters the room and he returns home. He sees that she is already aroused by the fact that she caressed herself. He comes closer and touches her breasts over her bra, we hear a woman's soft moan. He likes what he sees. She notices that his cock in his pants has become hard. The angel pushes him onto the bed and climbs on top with a sly smile. She unzips his pants and takes out his already hard cock. She says some dirty words to tease him before letting him rub his cock on her lacy bra.
She takes his hand and puts it on her bra for him to touch it some more.
Cock rubs against her lacy bra. She holds his cock in her hand and rubs one breast, then the other, then between the breasts in this lacy bra. Don't stick your penis between your boobs, rub your penis over your bra. But it is not necessary to have this scene (between two breasts in a bra) for a long time, rather I prefer rubbing against a lacy bra with a face in the frame.
Angel then takes a bottle of oil and lubricates his hard cock and lubricates her bra very well. Rubs his cock against her lace bra again. After a while, she says that she has some more new lace bras that you haven't seen yet, and now she can put them on for you.
Show how you change bras, from black to white, and then from white to black.
Now she's wearing a white lace bra. She also caresses her breasts over her bra and talks dirty about her bra.
The camera is watching her.
The man approaches her, the angel kneels. Now the man is rubbing his cock against her lacy bra. She likes it, she starts to moan and sigh sometimes, she likes it, and she asks him if he likes this lacy bra like the previous one? Do you want me to oil this bra?
She oils up her white bra and the cock keeps rubbing against her bra. Here the Angel can speak dirty, for example:
After some wiping. Angel takes out another black bra again (WHICH YOU BOUGHT FOR CLIP) and puts it on, showing the process of putting it on.
Again he rubs his cock on her black lace bra without oil and with oil. He can also rub his cock between the straps of her bra, but not for long.
The first position will be on the bed, I think that in this position we can film how I rub his cock on my bra.
The second position will be near the bed, I will be on my knees or leaning on the bed, so the man can rub his cock on my bra.
We have not decided on the third position yet. Maybe when I'm in bed. That way he can rub his cock against my bra underneath. Do you have any suggestions?
I prefer the attachment angle from the picture the best, but you can decide, but please try to get your preferred angle.
I understand correctly that you want to see the friction of the penis on the bra from different sides. You mean the side of the bra, the front of the bra, the bottom of the bra?
Yes, I love the front side of bras and see how the members rub well against the lacy bra. Not inside a bra.
You want to see cum on a lace bra, right? But it depends on the position in which I will be. If I am on my knees, some of the sperm will splash on my chest, and some on my bra. If I lie on the bed, then the whole cumshot will be on the bra.
Final. Before he cums, (on first bra) Angel makes some dirty talk. Something like: "Do you like this fucking rubbing?". "I want you to cum on my lacy bra." "Oops, my bra is dirty." "I love it when you cum all over my chest in those lacy bras!"
Format: mp4
Resolution: 1920 x 1080
Duratio: 00:29:21
Size: 948 Mb