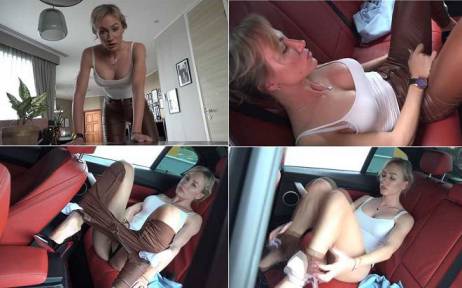 A situation when the dominated suddenly becomes the dominated. Like in these scripts when the powerful rich woman suddenly becomes our object of desire and actually humiliates herself in front of us. I love that! I also love that she is so arrogant and rich that she doesn't even realize that she is humiliating herself. Very hot I think!
-You are Playing with Fire
-You are Playing with Fire II
You are playing the same character as in previous videos, she is rich, sure of herself and very arrogant. She hates men and looks down on them, they are nothing to her.
Scene 1 – Living room (5-10 minutes)
The camera is looking down the corridor when Angel suddenly appears from the end of the corridor. She is dressed in the outfit in the description, except for the jacket, she's not wearing that yet.
She is in a hurry, she's about to hold a meeting with a lot of men. She is the boss and she is very strict. The men that work for her are scared of her.
She walks to the table and looks through some papers, preparing for the meeting. There is no posing in the video at all as usual. She just acts and moves normally going about her business. She looks through the papers, she checks her phone etc…
She then puts the papers down and turns around and walks back down the corridor. She comes back carrying her jacket that she's going to put on later. She throws the jacket to the side for now.
The meeting is about to start.
Scene cuts to us looking from the angle over the table. (Description of this angle in separate email)
She shuffles around some papers. She looks very serious. She puts them down and looks at us straight ahead over the table. The meeting has started.
"Gentlemen, this is very serious! I do not tolerate in my company"
She turns around and walks around for a few seconds while she looks through some papers.
Format: mp4
Resolution: 1920 x 1080
Duratio: 00:19:06
Size: 737 Mb