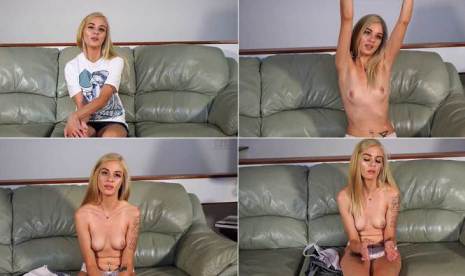 Welcome Zelda, a beautiful new model to our casting couch. Zelda is quite an interesting woman, she is rather nerdy, and geeky… yet reserved, and thinks differently than most of us. In this clip, we proceed with the PROGRAM and attempt to see if we can drop her into this new state of mental being.
As we proceed with a few of the tests, it looks rather promising. Then I tell her to lay down on the sofa, and she does. I start talking to her, and leading her on the path of a nice PROGRAM and she responds normally. I feel its now time for a deep routine, where I emphasize how submissive she will be, as I explain to her she will start walking down a flight of stairs. And as I start making her walk down these stairs, she physically starts to shift her body, and actually stands up and starts attempting to walk down a flight of stairs!! This has never happened to me before on camera, but it has happened one time before when I was not filming… but this means this is working super well, and she ends up on my carpet… as I begin to PROGRAM her.
Zelda in Freeze
As with any newcomer to my studios, after I initial my PROGRAM I proceed with making them stuck to the sofa, and FREEZE on command. Zelda is no different, as I test the levels of my PROGRAM on her. As I suspected, it worked well. She can't get up off the sofa, and when I FREEZE her in place, she's stuck.
Zelda in Brain Cleaning
We now have established that Zelda is under my PROGRAM and that I now need to continue pushing her even further by making her believe she's stuck to my sofa. And when I feel she's fully stuck, I push her even further by making her forget the number 5, and her name won't come out of her mouth!
And because of all this weirdness, I make her believe that her brain is cluttered and needs cleaning. I need to remove it, clean it, and put it back in her head. She agree's to all this, and as I usually do – I put her brain in backwards… You'll have to see this clip, to see her reaction…
Zelda in Disagreeable
In this clip, my goal is to get Zelda naked.. at least topless. So I decide to PROGRAM her to have to obey when I say the magic word Please. We continue talking, and then I causally ask her to remove her shirt.. and she disobey's! She does not want to remove it… I keep asking, and keep trying to convince her and she is stomping her food down, and won't do it.
Sooooo, with my magic word at hand; I tell her to "Remove Your Top Please" and she instantly reples with "I will obey" and she complies. Shocked at what she just did, she attempts to put it back on.. but I FREEZE her in place before she can, and hide her shirt…
We continue this until she's down to her panties.
Zelda in Robot Clone
Zelda is now PROGRAMMED to believe anything I tell her, no matter how wild and crazy it is. This leads me to trick her to believe she is a robot clone of herself. When I bring her out of her PROGRAM I started to pain the picture… of where she came, and did our shoot, and then left… and to start explaining why she's still here.
She seems rather cooperative in things, but then I start to push her by making her go through a series of emotional tests. Then I have her turn herself off. While she's off, I focus on her body a bit, and pan some close-ups with the camera. Eventually turning her back on again. This continues for a bit, before I decide its time to wrap up, and proceed with the de-programming and final interview.
Format: mp4
Resolution: 1920 x 1080
Duratio: 01:38:11
Size: 2366 Mb