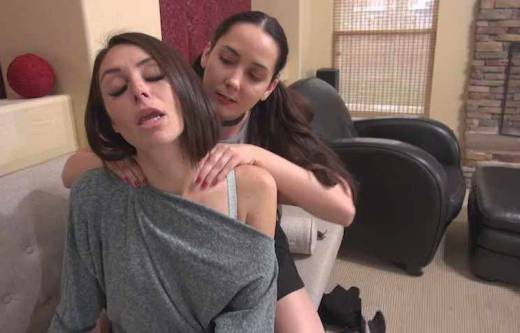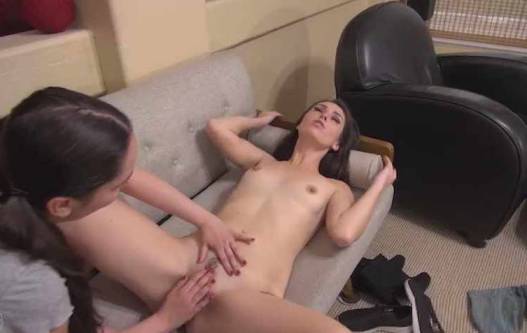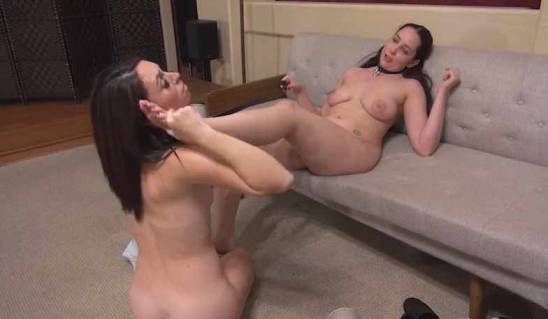 Ashley Wolf and Kyra Rose star in this fantasy clip. Kyra brings her manager Ashley back to her Master, claiming it will help her relax. She has no idea things are about to be turned upside down.
Kyra's Master mesmerizes Ashley with Kyra's help. He begins by giving her a suggestion to love the feeling of Kyra's touch. Then he brings her around and has Kyra give her a footrub, which feels so good she can barely stand it.
While Kyra is giving her a neck rub her Master ups the stakes and gives Ashley a suggestion to feel amazing sensations in her clit whenever Kyra touches her.
She is squirming with pleasure and is feeling sluttier and sluttier. She has been trained to crave Kyra's touch on her pussy. Then Kyra's Master moves in and programs Ashley to be triggered by having an orgasm to submit to Kyra and call her "Mistress."
Ashley can no longer resist Kyra's touch and soon she cums. And suddenly she finds herself compelled to call Kyra "Mistress" and follow her every command.
Kyra pus a collar on her, then a leash, and begins to take revenge for all the trouble Ashley has given her at work.
She makes her crawl, worship her feet and spanks her. Then her Master gives Ashley a suggestion that transforms her into a pain slut. She can't help but love the she gets from Kyra.
Kyra flogs her and uses her as a footstool and Ashley loves it all.
Then Kyra uses Ashley for her pleasure, ordering her to finger and lick her pussy.
Finally, Master installs a suggestion in Ashley. She will forget everything that happened as she dresses. But whenever Kyra says "you are my bitch", she will transform from Kyra's boss to her horny submissive pain slut.
Kyra won't be having trouble with her boss any more.
Format: mp4
Resolution: 854 x 480
Duratio: 00:38:46
Size: 297 Mb