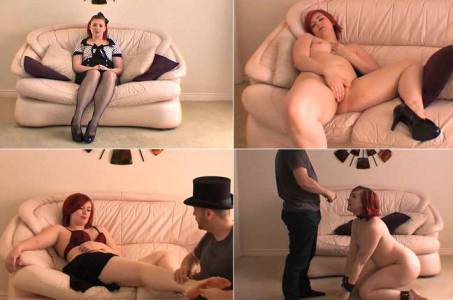 Ivy's a friend in real life, so there's some great chemistry in this one. She's also a massive brat, so expect lots of swearing and name calling as she initially resists my wiles, but inevitably succumbs. Huge amounts of fun to see her switching from and shouts of "FUCK. OFF!!" one minute, to submissive smiles and nuzzles the next as she forgets being anything but my submissive slavegirl.
Ivy's exactly what you want in a subject. She starts off bratty and strong-willed, and though she *could* have let my words control her from the very beginning of the shoot, she decided to start off by ignoring commands, teasing me and refusing to do as I wished. This was probably for the best, as it meant I got to do a nice trance with her where all her resistance to my words went mysteriously missing. (Gleeful cackle)
Even after the initial trancing, given the choice between submissively obeying my commands unquestioningly, and obeying under duress whilst making her thoughts on me VERY clear, she tended to opt for the latter… of course that made the moments where I *did* have Ivy believing she was a mindless puppet or a slavegirl or an affectionate and loving kitty all the sweeter.
0:00:10 Introduction
0:02:00 Resisting past programming
0:02:55 Full induction
0:12:30 Amnesia: Doesnt realise shes been under
0:13:15 Playing tricks on Ivy whilst shes resting
0:15:55 Amnesia: No idea who I am
0:17:55 H is Wonderful trigger
0:19:00 Amnesia: No idea who she is, believes what shes told
0:19:55 Age Regression into Lottie
0:21:05 Lottie tells us about My Little Pony
0:23:10 Back to normal, gives me a piece of her mind…
0:23:15 whilst I trigger her to compliment and thumb suck.
0:24:00 Oblivious Tourettes
0:26:25 Wakes feeling lady-like with a sailors mouth
0:29:00 Mental Bondage
0:30:30 Tickling is ineffective
0:30:55 Binding Ivys Resistance
0:31:05 Tickling is SUPER effective!
0:34:00 More remote control triggering
0:35:00 Laser Pointer of Ticklishness
0:36:55 Clothes are too ticklish to wear
0:40:40 Catgirl mannerisms (still human)
0:44:25 Catgirl completely (can only meow)
0:45:45 Catnip Cushion Lovin
0:50:00 Spiked Drink Makes Ivy Horny!
0:52:30 Stroking, Masturbating, Self Absorbed
0:56:00 Frozen Fuckdoll Flyaround
0:59:00 Super Shy about being naked
1:00:00 Shy / Extrovert Model Switching
1:02:45 Frozen Like a SexDoll…
1:03:30 And embarrassed as hell
1:03:45 And tickled into shrillness
1:06:14 Post-Break Butt Puppeteering
1:07:20 Oblivious Belly Dancing when Music Plays
1:13:30 Aware of her Belly Dancing (Cant Stop)
1:15:00 Triggered to Throw her clothes at me
1:18:30 Lovestruck / Loathes me switching
1:20:45 Snuggling happily FOR NOW
1:27:00 Lottie Wears Possessed Socks
1:30:45 Ivy cant remove the possessed socks
1:33:00 Sexy Feet / Tickly Feet
1:36:30 Putting on a corset
1:39:50 Corsetted Photoshoot
1:40:45 Ivy the Airhead
1:42:30 Frozen in her Corset
1:44:00 Mindless & Posing on command
1:44:45 Corsetted Fuckdoll
1:45:45 Programmed to Suck anything that touches her lips
1:49:00 Stripped again!
1:51:30 Would be much happier if I called her Slave
1:52:00 Slavegirl Ivy Gets Cuffed & Collared
1:55:00 Slavegirl Ivy: Lead on a leash
1:55:25 Slavegirl Ivy: Does puppy tricks
1:57:00 Slavegirl Ivy: Mindless Mantras
2:00:00 Mindless Slavegirl: Stands and Obeys
2:02:00 Mindless Slavegirl: Puppeteering
2:04:30 Mindless Slavegirl: POV Dildo Sucking
2:09:00 Closing Chat (Pre-deprogramming)
2:10:50 Closing Induction
2:11:45 Closing Chat (Post-deprogramming)
2:15:55 Bonus 360 : Topless Domme Spinning
Format: mp4
Resolution: 1280 x 720
Duratio: 02:19:00
Size: 1233 Mb