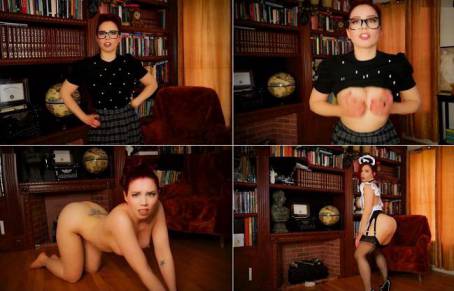 Clip Includes: Magic Control, Reprogramming, Unintentional Self Brainwashing, Stuck-Up & Vengeful Nerd Ludella develops an Entrancement App to Get Revenge on POV But it Backfires and She Ends Up Brainwashing Herself…AGAIN, Blank Stares, Mindless Stares, Reprogrammed to Obey, App Completes and She Blinks Out of Trance Thinking It Worked and POV is Under Her Control Now Only to Find Her Body Obeying HIS Commands, Mortified, Body Control, Mind Control,Made to Play With Tits, Made to Lift Top & Play With Bare Tits, Made to Kneel & Make Ahegao Faces, Drooling, Tongue, Eye Rolling & Moaning, Slave Position, Big Tits, Resisting But Must Obey, Humiliated, Humiliation, Made to Strip & Do A Sexy Dance for POV Even Through She's Trying to Fight It, Booty Shaking, Curvy, Pantyhose, Strips Fully Nude & Made To Crawl Around On Floor Butt Naked, Ordered to Change Into a Sexy Maid Outfit, Made to Clean & Dust In Nothing But An Apron & Stockings with Her Big Butt and Tits On Display, Pussy Peeks From Behind When She Bends Over to Clean, Made to Shake and Twerk Her Big Booty, Snapped Into Trance, Made to Walk Around With Her Arms In Front of Her Like a Zombie and repeat Mantras of POV's Control, Made to Act Like a Horny Bimbo, More Tit Play, Obedient Slave, Woman Following Orders, Horny Bimbo Transformation, Bimbofication, Bitch to Bimbo, Nerd to Bimbo, Curvy, Thick, Full Bush, Redhead, PAWG, Sexy Legs, Stocking Legs, Eager Slave, Begs for Master to Take Her, Ludella Hahn, Contains FULL NUDITY
Years ago, Ludella was just a nerdy feminist student who attempted to mesmerize her sleazy project partner…and instead ended up his obedient slave in (Oops! I Brainwashed Myself! Years after being returned to her normal nerdy and feministic state (once POV got sick of her and moved on), she's developed an app to get revenge…to turn him into HER slave. And based on her history with entrancement, what could possibly go wrong? Wink
"After many years of development, I finally have my entrancement app up and running…" Ludella says with glee, "And I will be able to use it for sweet, swift revenge for all the dirty, DIRTY things he made me do…the last time I attempted entrancement and ended up brainwashed myself. Ugh. Thankfully he got sick of me and I could return to my former unBIMBOfied glory. But I just simply cannot let go, though that's what I'm supposed to do, but I cannot. No, not after he turned me into a DUMB, SEX-CRAZED BIMBO that was at his beck and call! Hmmmph!" She huffs.
Clearly what happened years ago has had long term effects on Ludella, and she feels it only fair that the tables are turned and he can experience what she felt. That's the only true justice in her eyes. It's HIS turn to be brainwashed into HER slave. She's so excited that the day has come and he'll arrive any moment under the guise she's presented to him: that she wants his input on her app.
She's elated when she sees he's arrived and tells him that considering their history together, she thought he'd be interested in taking a look at the app and giving his input, since she's "so inferior and all…" She hands it over to him with a grin, but after a moment he tells her it isn't working, which she finds offensive since she knows it works perfectly fine considering all the work she's put into it, (I mean, she has a PhD for goodness' sake!) so she grabs it from him and begins to show him how to operate it like the know-it-all she is…only she accidentally targets herself in the process, entranced by the swirls on the screen.
Her eyes go blank and she stares into the phone. "Yes, Entrancement App currently uploading… Ready to obey… Yes, Master… You are Master, and I must obey…" The app dings when the reprogramming is complete and Ludella blinks out of the trance, looking a bit confused at her lapse in memory, but then quickly becoming haughty thinking her perfect plan has worked.
Format: mp4
Resolution: 1920 x 1080
Duration: 00:18:46
Size: 552 Mb