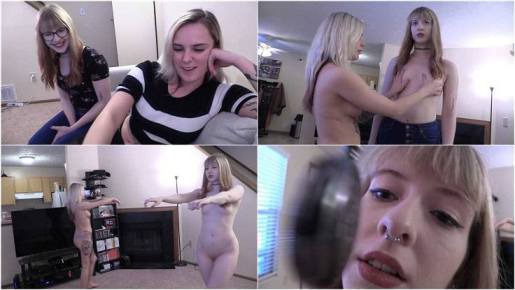 Kami and Alisha are making plans for the evening with one of their guy friends. Suddenly the idea comes to him that he'd rather stay in and watch his two friend strip naked and play with each others bodies. He uses a pocket watch to hypnotize both girls and they go deep under his control. Kami and Alisha now mindlessly do anything they are told.
Both girls are hypnotized by a pocket watch. They go into a trance and repeat back their commands.
Alisha sits helplessly in a trance and is felt up, while Kami sleepwalks back and forth, repeating her mantra.
Kami and Alisha are made to walk in circles like zombies and chant the same mantra.
Both girls stand posed as sleepwalkers and repeat their mantra while they are felt up.
Both girls are made to go topless. Alisha rubs Kami's tits while they remain entranced.
Both girls are made to strip down to their panties.
Kami lays on the ground while Alisha is made to grind on her.
Kami is made to do a lap dance on her master while she repeats her mantras.
Both girls sleepwalk in circles while chanting "we are your hypnotized slaves".
Kami and Alisha take turns grinding in their master's lap.
Both girls are snapped out of trance and react in disbelief. They are instantly put back into trance when shown the pocket watch.
The girls are taken deeper into hypnosis when Alisha swings a pocket watch in front of Kami's eyes.
Format: mp4
Resolution: 1920 x 1080
Duratio: 00:20:49
Size: 1062 Mb