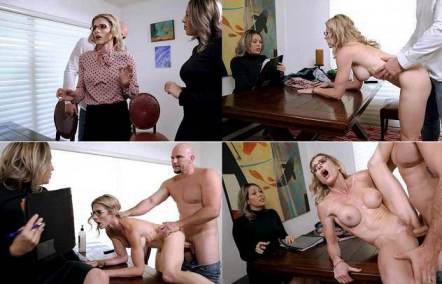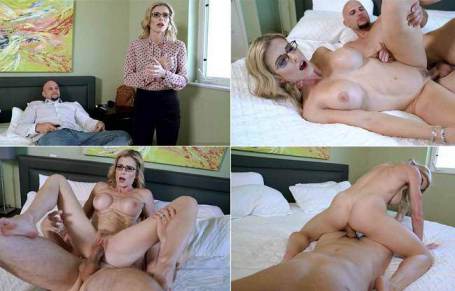 Scene One – Remote Training
Cory and her husband, JMac, have been having a lot of marital issues lately. JMac decides that the two of them should go to a marriage counselor to get some guidance. The main issue that JMac has with Cory is that she refuses to have sex with him… ever! Cory doesn't see a problem with this, but JMac can't take it any longer. They explain this to the and she tells them that she uses some experimental methods of treatment, but they are usually effective! She takes a remote control out of her desk and she hands it to JMac. Without fully explaining what this magical remote does, she instructs JMac to simply point the remote at Cory and say "freeze!" He does as he is told, and Cory suddenly stops moving and speaking. The explains to JMac, "Now all she can do is listen!" The starts to unbutton Cory's blouse, and then JMac points the remote at her and says "undress yourself!" Cory takes her blouse off and then she slides her skirt down to the floor. She pulls her bra and panties off, and JMac points the remote at her again and says "bend over!" Cory bends over on to the 's desk and JMac starts to rub her pussy with his fingers. He pulls his pants down and gently slides his hard cock inside of her.
The is sitting next to them while he fucks his wife and she is taking notes on the whole situation. The decides to unfreeze Cory and she immediately starts to freak out! "What are you doing to me?! Why are we naked?!" she cries out. The freezes her again, and Cory stops complaining. "You can take the remote home with you, but make sure you don't the remote!" the tells JMac while he is fucking his frozen wife. The unfreezes Cory again, and she starts yelling and complaining about being fucked by her husband again. "Freeze!" the says, and Cory stops speaking. The instructs JMac to cum inside of his wife's pussy, and that's exactly what he does… Once he is done cumming, they unfreeze her again. Cory jumps up and yells "We are getting a divorce over this!!" and she storms out. JMac grabs the remote control and chases after her…
Scene Two – Home Remote
Cory and JMac have just returned home after their couple's therapy appointment, and Cory won't stop screaming at her husband! JMac is tired of his wife screaming at him over every little thing, so he decides to take advantage of the remote control that he has! He picks the remote up, points it at his bitchy wife, and yells "freeze!" He instructs her to take her blouse and bra off first. "You're so much better when you're quiet!" he says. Then he gets her to take her skirt and panties off. With the help of the remote, he gets Cory to spread her legs in the middle of their bed and masturbate until she makes herself cum.
"Be flexible!" he shouts, as he moves her in to the missionary position. He licks her pussy up and down before shoving his big cock inside of her. She just lays there, moanly gently, while he fucks her robotic self. "Your pussy is so fucking good!" he moans. He lifts her up and puts her body on top of his, in the reverse cowgirl position, and he fucks her pussy even harder now. Then he flips her over in to the doggy style position and pounds her from behind. "Now get on your knees on the floor and let me cum on your face!" he says in to the remote, and his wife does exactly that. After cumming all over her face and her glasses, he unfreezes her. She immediately goes back to her usual yelling, "JMac!! Oh my God, you came on my face?! We are getting divorced!" He freezes her again and goes off to take a shower…
Format: mp4
Resolution: 1920 x 1080
Duration: 00:34:05
Size: 1029 Mb