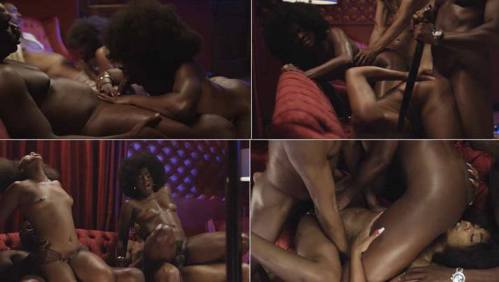 Sally Mae (Ana Foxxx) and Detective Stone (Cali Caliente) have come up with a plan to get face-to-face with Gabriel, the elusive boss of the Blackground Family. This turf war has gone on for long enough, and it's time to put an END to it, ya dig? Sally and Stone manage to infiltrate Gabriel's hideout but are caught by two thugs (Scotty P and Thrill). But these jive turkeys are no match for two bad foxy mamas like Sally and Stone, who manage to seduce the dudes with ease.
Sally and Stone have sex with the thugs, but just when they think they'll be able to go find Gabriel, the thugs pull out their weapons. Bummer! They were almost there! But luckily for them, the cold-as-ice Isiah (Isiah Maxwell) shows up just in the knick of time. Shoop! Whap! Bazam! With a few groovy swipes of kung-fu badassery, Isiah kicks the thugs' asses to the max.
Now it's time for Sally Mae to go toe-to-toe with the man she's been hunting for all this time: Gabriel. Everything she's gone through has prepared her for this moment. She ain't alone, but will this rag-tag team of cool cats be enough to take down one of the most powerful bosses in the state? And will Gabriel's TRUE identity finally be revealed?
Format: mp4
Resolution: 1920 x 1080
Duratio: 00:40:11
Size: 1284 Mb