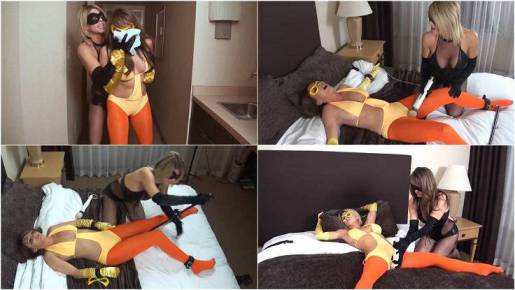 Solar Girl is ambushed by The Seductress while searching for the villainess in her lair. Her surprise attack renders Solar Girl helpless as she drifts off to forced sleep.
When she awakes, Solar Girl finds herself bound and at the mercy of The Seductress's evil plans. In an effort to weaken Solar Girl's will, Seductress subjects the heroine to a forced orgasm with the help of her trusty vibra wand. Solar Girl is helpless to resist the vibrator on her spandex covered pussy and has a mind shattering climax.
With her prey sufficiently compliant, The Seductress uses her hypnotic crystal to bring Solar Girl fully under her evil spell. She entrances the heroine and begins implanting her will upon her. Seductress's plan is unveiled as she tells Solar Girl that "Obedience Is Pleasure", and "Being Evil is Fun".
Solar Girl is unable to resist the power of the crystal and Seductress's soothing voice. She convinces the heroine that she is now her "obedient slave" and that she will now only desire to be "evil and sexy" and to help her new master with her plan to convert all the other superheroines in Arkham Heights to do her evil bidding.
After her spell is cast, Seductress decides to "test" her new slave…and releases her from her shackles. Solar Girl is commanded to undress…and the two swap costumes…Solar Girl is now transformed into a villainess!
Seductress commands her to use the vibra wand on her and the transformed heroine complies…bringing Seductress to a toe curling climax. The test completed, Seductress tells Solar Girl that she will now seek out superheroines and transform them into her evil minions. Solar Girl is now a willing slave…as she repeats the mantra…"Obedience Is Pleasure". Will Solar Girl ever be freed from the Spell of the Seductress?
Format: mp4
Resolution: 1280 x 720
Duration: 00:13:01
Size: 157 Mb