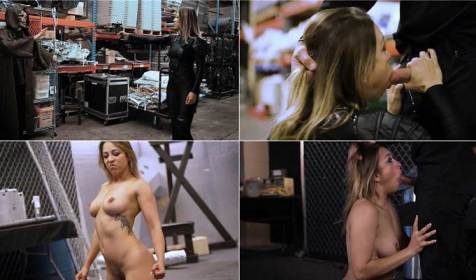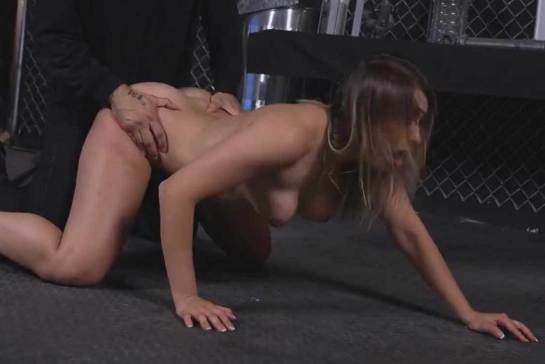 Huntress is chasing Crane through a warehouse and finally corners the mad doctor, who reveals he has become Scarecrow. She laughs at this ridiculous notion and informs him of her plans to kill him. He tried to attack her with a poison that shoots out of his wrist devise, but it fails, causing more embarrassment. She decides that a some hand to hand combat would be fun.
They fight, which turns into a messy struggle, she de-masks him—more embarrassment. But in a turn of events, his wrist shooter works, and a poisonous mist strikes her in the face. She is instantly hallucinating, and becomes terrified. He promises to give her the antidote if she would suck his cock. And, so she does, eagerly and scared. After a bit, he surprises her again with a chokehold then drags away the unconscious Huntress.
Back in his secret lab, he is futzing with his wrist devise and is unaware as she makes her escape. Enrages by this, he chases the completely naked crime fighter through his lair. Eventually he corners her and they fight. She is able to overcome him, knocking him out. But just as she looks away, he grabs her, securing his dominance over her for a final time.
Now she is his and she sucks his cock with scared obedience. Then he fucks her–first doggy then cowgirls, watching her lovely titties bounce, her face filled with frustration, sadness and hits of pleasure.
But in the end, after he finishes in side her, he must eliminate this thread. While she is still in her weakened state, he wraps his hands around her neck and strangles her. She bucks, spasms and thrashes for a long time as he slowly murders her. Once she was dead, he leaves her sprawled out in the middle of his lab on the cold floor.
Format: mp4
Resolution: 1920 x 1080
Duratio: 00:15:00
Size: 1063 Mb