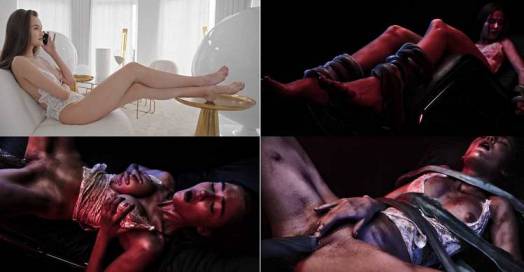 Sonya Blaze has gone a long way from her first Hentaied introduction in the Eggflation video. Now she is just a regular girl, she likes to do girl stuff, loves going out, having fun, but sometimes she just doesn't have luck. All her friends are blowing her off, no one wants to do anything, and it makes her bored out of her mind.
That boredom, however, is going to be short-lived because she has a visitor inside the house. The very sight of tentacles crawling around her floor is not something she was delighted to see, but it certainly got her speechless and unable to move. Next moment she knows, it's a full alien abduction, they're around her neck, placing her into sleep before she's transferred.
She awakes in a strange place where the flashing lights send her straight back to sleep. Then again, she's awakened, and now the sounds confuse her and send her to sleep once again. Maybe third time's the charm? She's got tentacles around her arms and legs, she's in a chair, and notices a couple of them approaching her love cave.
And then bam, she's back to sleep again. All of this has confused her, so the next moment she wakes up, Sonya starts doing something strange. She's touching herself, something she usually wouldn't do especially in this kind of situation. She just can't stop playing with herself, her fingers are touching the clit, massaging it, and she's playing with her perky tits.
It's like she's been brainwashed into becoming a sex slave, but who cares? She's having fun, and that's the only thing that matters right now. Then she hears that familiar sound of tentacles approaching her, but this time she can't be brought to bother with such things, instead, she accepts it.
Looks like this alien abduction is going exactly as planned by the tentacle monster. She's moaning while that beautiful wet pussy is being drilled, and it's only getting harder. Her face is full of lust and pleasure, it slowly turns into something greater, an ahegao face, the kind you would expect in real life hentai.
The orgasm she's going through is an invitation for more tentacles. They crawl all over her body and start caressing it, touching her soft skin, while she's still getting pounded. In a moment, she's abou to be filled with alien semen, and not just any kind, but a full-on, gallons of cum type that tentacles are known for.
Even after it's over, she's playing with herself, as the semen drips out of her vagina, but she doesn't care, the feeling of pleasure is prevalent. Then all of a sudden a couple of tentacles lift her legs up. That cum that's leaking out isn't going to be wasted. She has to let it leak down and straight into her mouth, so she can get a taste of it.
Format: mp4
Resolution: 1920 x 1080
Duratio: 00:12:53
Size: 344 Mb