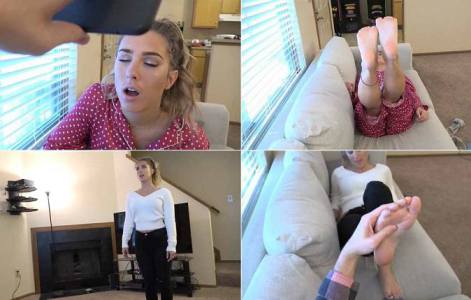 Victoria and her husband have a great marriage, it's just that sometimes her husband likes to liven things up with some role play. Victoria doesn't mind (and is in fact sometimes unaware) if he hypnotizes her into taking on these different roles, and playing out his fantasies. Today he hypnotizes Victoria into believing she is a secretary, a school teacher, and a sugar baby, all of whom are trying to seduce him with their feet to achieve their goals.
Victoria is hypnotized by her husband using a spiral.
She goes into a trance and repeats back the programming he gives her.
Victoria is made to think she is a secretary, trying to seduce her boss with her legs and feet, into giving her a raise. She shows off her feet and demonstrates what she'll do barefoot around the office if her boss gives her that raise.
Victoria is then programmed to believe that she is a school teacher trying to seduce her student with her legs and feet, into getting better grades. She teases with her feet and threatens to start wearing shoes to class instead of her sandals and open-toed heels.
Victoria is made to change outfits and believe she is trying to convince her sugar daddy into spending more money on her, once again using her feet as a tool of seduction.
Barefoot.
No nudity.
Format: mp4
Resolution: 1920 x 1080
Duratio: 00:20:04
Size: 294 Mb