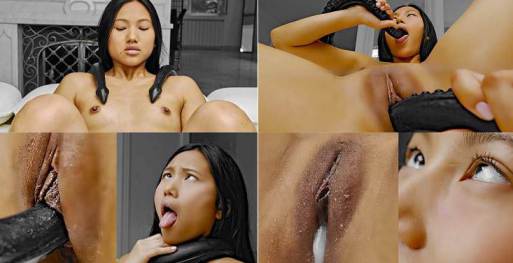 Exotic May Thai is more than excited about her meeting with Mr. Alien, she's thrilled to be here for some tentacle bondage. Although at the same time, she doesn't know what to expect, a bit shy, and reserved, she's sitting on the couch crunched and exposed, bare-skinned without a single piece of clothing on her body.
Don't you worry May, Mr. Alien is a real gentleman, he'll be careful with you and your petite, frail body. Once the nerves of his new girlfriend get relaxed, we'll see a dozen black tentacles crawling from all directions, drawing closer towards her. Two curious tentacles crawl from behind, and over her shoulders, closing in on her perky nipples.
The tentacles play around with them, squeezing the nips of the beautiful Asian star, and relaxing her even further in the process. See? It's not that bad when you've got so many tentacles to please you, which brings us to the next scene. The tentacles wrap around her limbs, hold them apart to create a special atmosphere, Mr. Alien likes kinky tentacle bondage play.
It goes without saying that May Thai thinks the same, and you will see it in her eyes, half-shut, the lust overtakes her fragile body. She leans her head back as a tentacle gets closer to her mouth, and another one creeps inside her slit. It's so tight, and wet too, irresistible, and Mr. Alien likes a challenge.
He will go deep because he senses she can handle it, every last inch of his long tentacle, or at least enough to fill her up until there's no more room to fill up. As is tradition with Mr. Alien's tentacle bondage, chicks can't handle just letting him do all the work, they like to grab hold of his thick black tentacles and stick them deeper inside themselves.
The same can be said for May Thai, she starts deepthroating and stuffing her tight pussy harder. She increases the pace until the ahegao moment, a raging orgasm that only a tentacle can provide. The one in her mouth releases the cum, her sucking has done wonders, but the liquid makes it even more intense.
Her orgasm starts getting so strong, she sticks her tongue out, the cum dripping from it, and she's shaking so hard that a tentacle has to wrap around her neck and hold her tight. As we all know it, it's only over once Mr. Alien says it's over, and he's yet got tentacles that need to release the alien cum.
The one in her pussy is about to burst. It's hard to describe how she's processing the feeling of such a long thing releasing semen so deep inside her, but you'll be able to see it with your own eyes. Another ahegao moment is on the place, her eyes are rolling back, tongue is stuck out, she's exhausted, yet pleased beyond the wildest dreams.
Format: mp4
Resolution: 1920 x 1080
Duration: 00:05:28
Size: 219 Mb