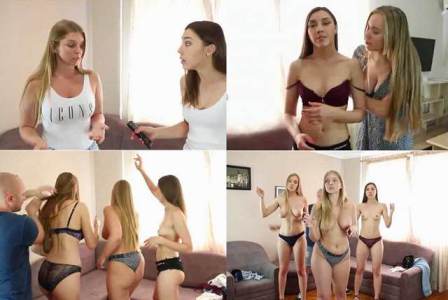 Two friends accidentally find some control panel for freezing and one of them tries it on another.
It suprise her so much she can't deny herself and using it on her friend, who literally don't understand anything and is being frozen from time to time. The third girl joins their party and two girls decide to make fun of their friend. Of course it's always more fun when you undress someone!
So little by little, checking frozen face of each other, waving hand and making fun poses they start to undress each other. Of course the one who gets frozen doesn't like the idea so the revange come really fast!
Doing all of this girls don't notice that the real owner of the control panel enters. He freezes all girls at once. Makes them running a bit around the flat and then stops them. Making them pose as he wants, he enjoys their bodies without clothes.
All this beautiful faces and totally frozen whole bodies… no blinking, no miving, do denial…
After playing with his new toys he decides to remove them to another location.
Lift one by one he changes the place of standing of these beautiful frozen statues.
In this video you'll see: totally frozen three beautiful girls, lift&carry, beautiful breasts, many close-ups, face-check etc
Format: mp4
Resolution: 852 x 480
Duratio: 00:23:11
Size: 212 Mb