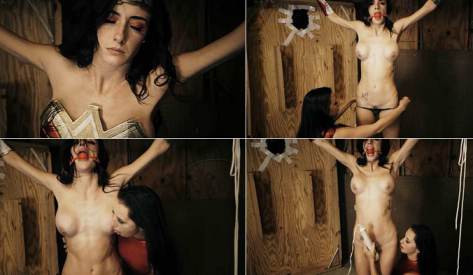 After the Flash delivers a message to Wonder Woman, it is soon revealed that the Black Mask has captured her beloved step-sister Donna Troy. Immediately Wonder Woman heads to confront him and rescue Donna from the rich villains clutches.
Wonder Woman arrives and Black Mask challenges her to a fight. Black Mask proves no match for Wonder Woman's super human strength and is easily beaten, however this was all part of his evil plan. Soon Donna emerges, holding a special Stamina Ray. Wonder Woman calls to her, but Donna has been turned into a mindless drone under Black Masks powers. Donna fires, immediately incapacitating Wonder Woman.
Wonder Woman slowly awakens to a camera in her face. Her hands are tied to a chain and she's hanging in a dark and dingy room. Black Mask let's her in on his dastardly plan. He will have Donna strip her down and her to Orgasm – but best of all – on LIVE Television. His special vibrator also will strip Wonder Woman of all her stamina and strength, what will Wonder Woman do? Will Donna snap out of it or will she finish off her once best friend?
Format: mp4
Resolution: 1920 x 994
Duratio: 00:13:54
Size: 484 Mb