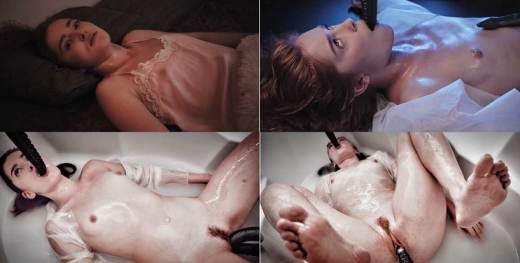 Warm sticky liquid leaking from the mouth while two huge tentacles fuck brain through the ears. Rolling empty eyes show that there is nothing left inside the head, but fresh hot cum. With every single second black alien monsters go deeper to gain full control over the mind. So, there is nothing human left. Not a single emotion what you could read on the beautiful face of this poor lady, but one – a slight shadow of sexual pleasure. From now on she is an empty shell. She is a puppet controlled by aliens and inspired by lust.
Jia wakes up completely wet and breathing heavily in the middle of the night. She is incredibly frightened. Since a while Jia cannot sleep properly. Night after night horrible nightmares keep this girl awake. However, Jia could not remember anything what is it all about. But this time was different. She caught a second from her horrific dream.
Jia runs to the bathroom. Her body shaking in fear. She tries to comfort herself. However, the feeling of her head being fucked does not go away. Finally, all her efforts to convince herself that it's unreal vanished in vain. In the mirror she sees huge black tentacle comes for her. At this moment, flashbacks start to hit her poor head stronger. Jia feels all this sticky alien fluid all over her hands. And here we go: she looks in the mirror once again and sees what makes her insane. She sees who she truly is – an empty shell with no feelings, nor emotions.
Memory failure again. Now Jia already lies on floor in the unknown for her dark room. She grabs her head and tries to reassure herself that's it's just a dream. However in a second, the girl hears this nasty sound of tentacles approaching her. Her head splits in pain. But the moment the monsters touch her changes everything. Jia's brain is filled with a sense of joy, relief and sexual excitement. So does her body.
Format: mp4
Resolution: 1280 x 720
Duratio: 00:09:16
Size: 76 Mb