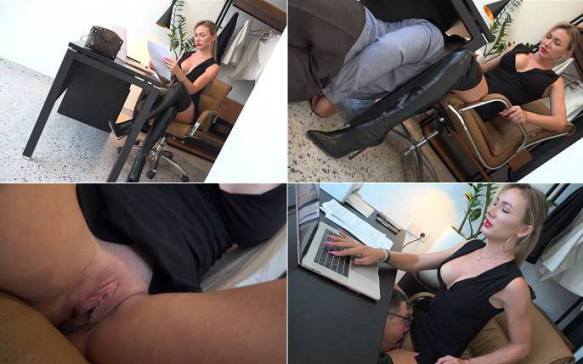 Required: 1 female boss, 1 male employer
Woman Boss's outfit: black leather high boots over the knee, short dress black with open cleavage, no stocking, no panties.
The environment: have a table/desk.
The sexy woman boss is sitting at her desk and she is working quietly in peace, she calls her employee and ask him the report of the day and a glass of water, the man leave his room and bring her a glass of water, by inattention the employee spill some water on the desk and on her dress, she's surprised and get up.
She gets mad about him and the man can't stop to apologize himself, she left her desk to cleanup her dress, in the meantime the employee is still in her office and start thinking about how to being forgiven, a big smile appeared in his face because he found an idea, he approaches the boss's desk, and stay hide deep under her desk and wait her.
The woman boss came back and still mad about him, she sat at her chair and get closer to her desk and continue her work, the man is under her desk but she didn't notice, he is very aroused because she wearing over knee high boots without panties, her legs are close not open yet.
Then she's getting being not comfortable with her outfit so she opens her legs (her legs are open enough to put a head between them discreetly).
The man employer can't believe his eyes, he starts moving without making noise and approaching her pussy quietly (his head must not touch the woman boss leg's, the first contact will be his tongue on her
pussy) his head is now between her legs and close enough to her pussy and start licking.
The woman boss jumps on chair, screams a little as if she is very surprised because she has a weird feeling and start getting horny, she looks under her desk and see a head licking her pussy, at first,
she's not consent and try to stop the employer, she begs him to stop and try to resist like 1 min.
After she totally surrendered to him and let it flow, she let the man lick her pussy under her desk for 10 min.
During the licking part, she continue her work on her laptop and really like it, she can't believe that she have sex at work with someone hiding under her desk only pleasuring her, she receive a phone call and getting surprised and don't know how to react, she answer the call and try to act naturally, she hold the conversation the best as she can, she begins to have deep breaths and breathes quickly, she closes her eyes to try to concentrate and let's hear some moaning on the phone, the contact asks her by phone if she is well, she looks at her employee with a mischievous smile and answers the phone with spaced sentences.
After while then someone knock at the door and she's getting surprised and don't know how to react, she grabs the subordinate's head looking at him and saying with a quiet voice "Slow down someone IS
coming you have to stay quiet, I will put my thigh on your shoulder so your head is bury in my pussy and not making noise" the woman boss put her thigh on his shoulder and start her conversation, the
boss can't be focus on the conversation and try to resist while the subordinate lick faster more and more she starting moaning in front of her colleague, she looking at the employer telling him
by visual contact to slow down. She stops the conversation spontaneously and tells her colleague to leave, once he leaves, the woman boss relaxes and moans very loudly until orgasm.
Format: mp4
Resolution: 1920 x 1080
Duratio: 00:18:09
Size: 563 Mb