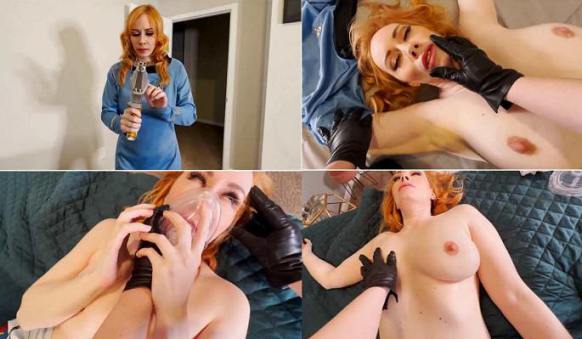 In this next episode of the Immerse Yourself series, you play a super-fan of Malloy Panda, and are given the opportunity for a chance one-on-one meeting with the sexy blonde bombshell. Malloy normally doesn't do encounters like this, but she was willing to give it her first try. The meeting starts out pretty normal, but Malloy remains a little apprehensive to her super-fan not being much of a talker. She notices your eyes traveling down her body.looking at her porcelain skin and perky breasts beneath her red sweater.
She begins to talk about her cosplay ventures, and suddenly you feel yourself daydreaming about what it would be like to engage in a sleepy fantasy knockout scenario..two, in fact. The first has Malloy as a Star Trek medical crew member surveying an unknown location. Her phaser is set to stun, and it accidentally knocks her out! After seeing this, you jump on the opportunity to continue to stun this spaced out beauty in a variety of ways, rendering her topless and helpless!
In the next scenario, you envision her as Captain Marvel! This time, getting the jump on the mighty cosmic hero and repeatedly subduing her to suit your sleepy needs!
You suddenly awaken, and realize that you were just fantasizing deeply and Malloy takes notice! Watch what happens next in Part 2!
Format: mp4
Resolution: 1920 x 998
Duratio: 00:34:54
Size: 1268 Mb