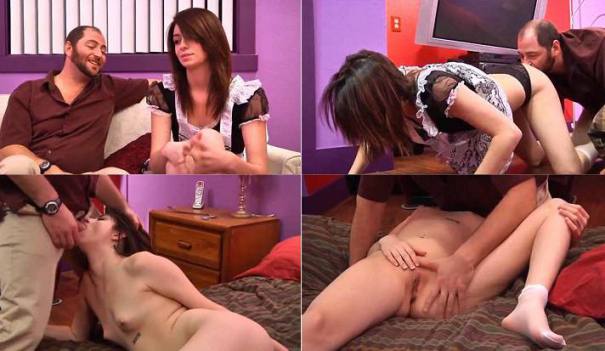 Aspen is Rocks personal maid, decked out in a French maids outfit and feather duster, she cleans his home for him.
Rock has come home very Silly and lays down on the couch. He asks her to come to the couch, trying to touch her ass. She offers him some water to sober him up. He stands awkwardly, but ends up back on the couch.
Aspen is new to his home, so she hasnt learned that part of the job entails blowing him. Hes just kidding! He has her sit down on the couch, still trying to touch her inappropriately. She refuses, again, to suck his dick and decides to quit. As she is leaving he uses his Timestop watch and freezes her in place.
He proceeds to touch her in all the places he desires, rubbing her pussy through her panties. He strips her poses her before carrying her to the bed. He unfreezes her and she hurriedly heads for the door before he freezes her again.
He turns her around and unfreezes her, causing her to run directly into his arms. She struggles to get away from him, but he timestops her, putting her back on the bed.
He poses her in erotic positions, freezing and unfreezing her as he strips each garment off of her. He finally gets in a little frozen blow job action, but not before continuing to play with his new toy. He cums in her mouth, and, exhausted, collapses on the bed.
Later, he wakes up and decides he needs another blowjob. He fucks her frozen face until he cums his second load down her throat.
He unfreezes Aspen and she covers her nudity with a few pillows as he tries to apologize. He reveals that its one oclock the next day. She threatens to call the police, but he freezes her instead. Now he has to get his own glass of water, guess shes fired after all!
Format: mp4
Resolution: 1280 x 720
Duratio: 00:21:38
Size: 399 Mb