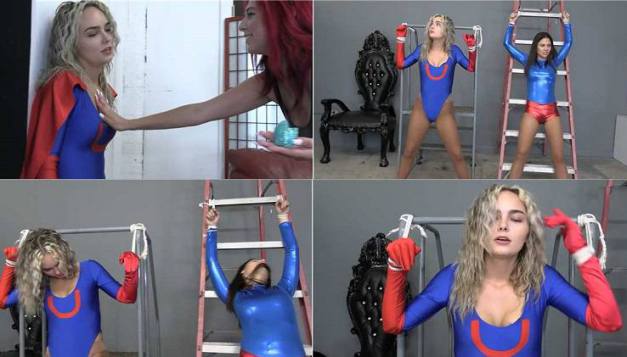 The comics have always been noted as having different planes, notably called the multiverse. Lately, the multiverse has been altered and combined by both superheroes and villains alike as there are news ways to discover and rewrite history.
This multiverse is now time to be altered once again as the Black Cat Rosie has found a way to trap and ambush a few Ultragirls to slowly start her multiverse domination! Her first target is Ultragirl Blake when she sneaks up behind her and tries to take her power belt away! Blake laughs and says that the only way to strip away her power is to have some kryptonite nearby and puts BlackCat Rosie's hands behind her back to take her into the police. Rosie laughs and reveals she does indeed have kryptonite and takes it out to push into Blake's face and body! Blake is getting dizzy and tries to take the kryptonite away but it's no use. Rosie laughs at Blake's feeble attempts to stop her and as the powers drain out of Blake's body, Rosie holds her up and teleports them away in a flash!
In the next plane of the multiverse, Ultragirl Cali is looking under a couch for the same key that Ultragirl Blake was looking for when the BlackCat Rosie strikes again and rips off Cali's power belt from behind! Cali is almost immediately getting weaker without her power belt and even though she tries to get it back, Rosie just taunts her and pushes her away until Cali is too weak to stand! Rosie takes this opportunity to hold up Cali to prepare them to be teleported back to the BlackCat's hideout as well!
Moments later back in BlackCat Rosie's hideout, both Ultragirls are bound and strapped to heavy ladders that have no give or leeway to them! Ultragirl Cali comes to her senses and tries to get Ultragirl Blake to snap up and try to figure out what's going on. Both of them realize they're both Ultragirls from different planes of the multiverse, and both have been ambushed and taken that that evil BlackCat Rosie!
BlackCat Rosie comes around to laugh at their poor misfortune as she puts the kryptonite and Ultragirl Blake's power belt in front of them, knowing full well there's nothing they can do to stop her as the kryptonite slowly saps away their power and the power belt is just out of reach of Blake's foot. With their helpless bodies strained down to the ladders, BlackCat Rosie leaves them be to struggle and lose more of their powers. Cali tries to encourage Blake to reach out in any way to retrieve the power belt so they can break free and put the BlackCat to justice! It takes a while and some stretching and struggling, but Blake is able to get her power belt looped around her ankle and is them able to summon enough power to break free from her binds and help out Cali as well! With the two of them free from Rosie's trap, they wish each other good luck and head back to their respective universe to track down that evil BlackCat Rosie once and for all!
Format: mp4
Resolution: 1920 x 1080
Duratio: 00:14:45
Size: 1180 Mb