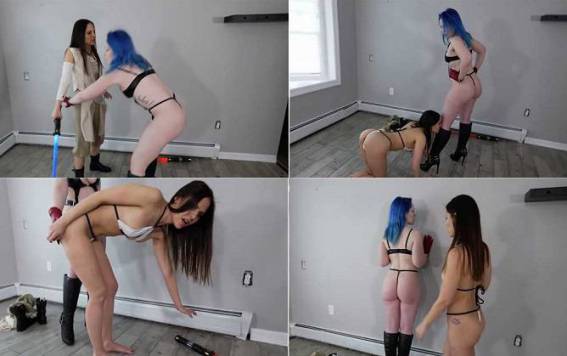 Jedi Cali is battling the dark side and quickly takes Vonka down, guess she isn't as strong as she thinks she is. But Vonka quickly takes to her powers of the magic and gets control of the Jedi Cali.
She quickly gets Cali under her control and her first order is for Cali to remove her clothes. Completely under the enemies control, she begins to take off her clothes. She strips down to her bra and panty as Vonka begins to inspect the good.Cali will make a good slave.
Cali's next order is to bow down in front of her master and kiss her boots. She makes her way up and down Vonda's sexy boots as she is told to kiss her way up to Vonda's ass. Kissing and worshiping her way around Vonkas ass, Vonka wants her to freeze for a moment.she has an idea!
Vonka returns to her slave with her Sith cock and orders Jedi Cali to start sucking. Cali sucks and licks her way around that cock as Vonka admires.this may be the best use of the magic yet!
The trance wears off and Jedi Cali jumps up and demands to know what is going on!! Just as she reaches for her light saber, Vonka uses the magic again and gets her in the perfect position. Bent over, Vonka thinks its time to take that virginity.
Jedi Cali comes back again and takes the light saber to Vonka.it's V's turn to be the slave! Cali make Vonka up against the wall to frisk her to make sure she has no other surprises.
Vonka is then commanded to kneel before her master and bow. She is then told to worship Jedi Cali's legs all the way up to her ass. Cali knows what to do with her next.she instructs Vonka to take her light saber, hold it in her ass until someone comes to do something about it.
Format: mp4
Resolution: 1920 x 992
Duratio: 00:16:36
Size: 594 Mb