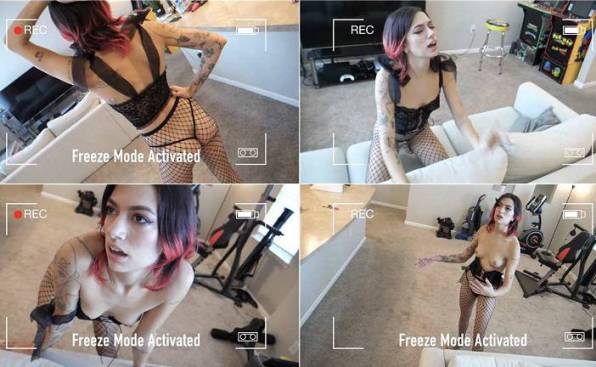 Casi is a model who's working with one of her regular photographers. Today she's modeling some sexy lingerie for him, and she's a bit excited because he has a brand new camera. But this camera has some special settings she's unaware of. The setting he'll be testing out today is the "freeze setting". Any time he takes a picture under this setting, Casi freezes in place, unaware of anything around her. She can be moved and repositioned under this setting. Whenever she returns to normal, Casi becomes increasingly annoyed that she can't figure out what is happening to her.
Casi is frozen in place by a new camera with an unusual settings menu. Frozen 7 times.
While frozen, Casi has no awareness. She can be posed and manipulated. When she unfreezes, Casi has no memory of anything that happened while frozen.
Always frozen in different poses, in different places throughout the room.
Top pulled down to expose her bare chest.
Fishnets and panties are pulled down while frozen.
Casi becomes increasingly upset when she realizes something is wrong, but can't figure out what it is.
Topless and bottomless nudity.
Format: mp4
Resolution: 3840 x 2160
Duratio: 00:13:15
Size: 1.12 Gb