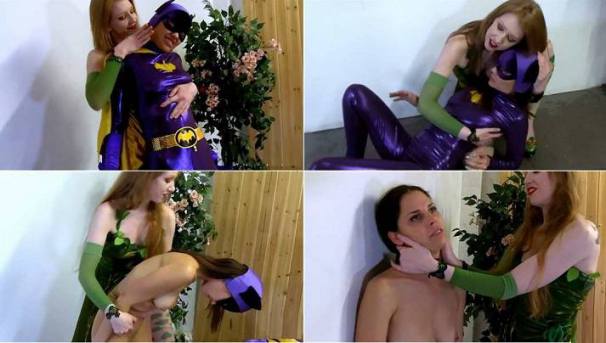 Ivy is spending some time feeding her babies, and in walks Batgirl like she owns the place. With one quick spray of her potion, Ivy quickly takes control and sends Batgirl into a daze. Batgirl tries to fight her way free, but the potion is too much and she falls back into Ivy's arms.
Ivy goes in for a better taste of that delicious neck of Batgirls as she gets weaker and weaker. Ivy is draining Batgirl of everything as she feels her way around Batgirl's body. Too weak to stand, Batgirl tries to craw herself away from the power of Ivy. She quickly finds out she isn't strong enough and Ivy comes over to help.take her boots off and stay awhile as she gets another taste of that neck.
As Batgirl tries so wiggle away, all she is wiggling out of is her costume as Ivy takes a minute to worship Batgirl's breast as she gets weaker and weaker. Ivy does give Batgirl credit.most people would have been completely out by now, but Batgirl has a fight in her.
Ivy takes another go at those gorgeous breasts of Batgirl to get all the energy out of those.Batgirl is fading more and more. Barely able to stand, Batgirl just wants Ivy to leave her alone but Ivy informs her she isn't going anywhere as she continues to remove the rest of the batsuit.
Now Ivy can drain Batgirl of all of her energy and power. She then takes off Batgirl's mask to expose who she really is, and takes all of Batgirl's powers and strengths. And before Ivy leaves, she seals Batgirl's fate with one final kiss.
Format: mp4
Resolution: 1920 x 966
Duratio: 00:15:25
Size: 544 Mb