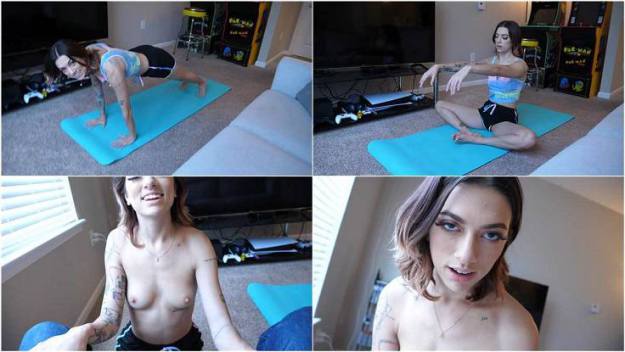 While doing yoga in her living room, Casi asks her boyfriend to give her some mantras to focus on for mediation since he's always so good at coming up with them. But today he changes up the mantras as she enters a meditative state. Mantras of obedience and servitude start creeping into her mind. Without realizing it, Casi is hypnotized into being his sex slave. She becomes aroused be the idea of serving a master, even while she's in trance.
As Casi closes her eyes, empties her mind, and focuses on her mantras, she goes into a deep trance.
The mantras her boyfriend has her focus on, program her to obey and see him as her master.
Refers to her boyfriend as "master" when talking to him.
Casi's chest is groped while her eyes are closed and she chants her mantras.
Casi chants her mantras with her legs spread and arms raised in front of her.
Opens her eyes and begins walking like a zombie and reciting her mantras.
Begins to get sexually aroused as she focuses on the mantras, and serving her master. She kneels before him and touches his body, eventually climbing into his lap.
At the snap of his fingers, Casi obeys and strips naked then gets back on her master's lap and fucks him. (Simulated only. No real sex or male nudity.)
Casi is instructed to put her clothes back on and forget everything that has happened.
Full nude.
Format: mp4
Resolution: 3840 x 2160
Duratio: 00:10:57
Size: 990 Mb