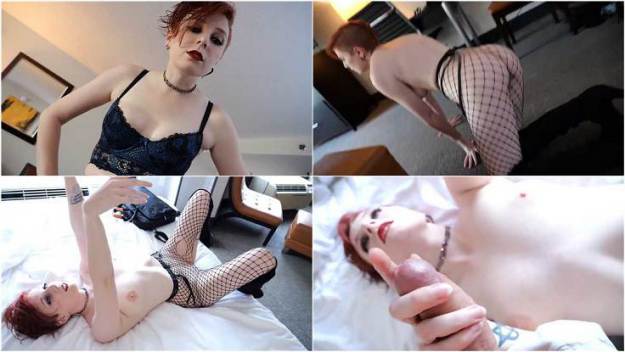 A man books a session with a dom, wanting to control her and make her his slave. He really likes Angelica's look, but she's not into his particular kink. The man uses a hypnotic tune to put her into a trance and drain her of her will. Angelica starts off strong and dominate, but once the music plays she becomes weak and submissive.
Hypnotic music puts Angelica into a trance, and makes her super submissive.
Refers to him now as "master" and "sir".
Dances in her master's lap slowly and sensually while chanting mantras.
Dances in the chair.
Crawls on all fours.
Rubs her master's dick over the pants.
Angelica's master tears a whole in her fishnets where her pussy is, then puts her into a mindless daze where she must pose as a zombie laying on her back.
Rubs her master's dick while telling him she is his fucktoy and sex slave, remaining blank and mindless.
Angelica is fucked on her back, blank and mindless, as she chants mantras. (Simulated only. No real sex.)
Left in a mindless trance, posed as a zombie.
Warning – male nudity.
Topless and bottomless nudity.
Format: mp4
Resolution: 1920 x 1080
Duration: 00:11:27
Size: 206 Mb