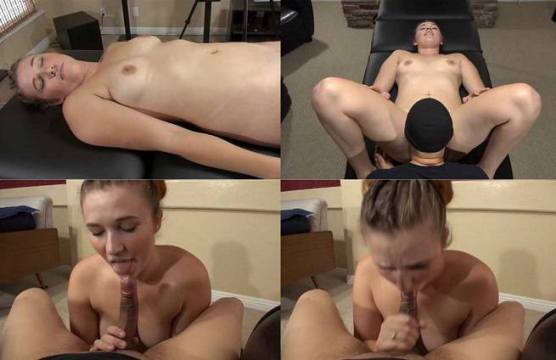 Stephie Staar has returned. She is feeling stressed from work. I am going to make her forget her stress and a whole lot more.
I start by helping her put the stressful moments of her week completely out of her mind. Using a hypnotic visualization technique I help her forget they ever happened.
Now, using the same technique, I make her forget that there is any reason to be wearing clothing, other than to feel comfortable. I also give her a suggestion to feel uncomfortably warm. She strips without hesitation so she lounge comfortably in the nude.
Next I suggest she try an experimental touch and massage based relaxation technique I have been working on. I have already given her a suggestion to be agreeable to anything I want to try so she is eager to comply.
Before we begin I put her back into a trance. This time I make her forget everything about sex. I turn her into a fresh virgin who has never experienced a sexual thought or sensation in her life.
Then I begin her relaxing massage. I tell her that her erogenous areas are special pressure points. She begins to notice the special sensations they give her.
I then tell her that for the best experience she needs a relaxing vagina massage. She has no idea why someone would do such a thing. But when I "massage" her pussy with my fingers and then my mouth, she quickly appreciates the amazing "new" sensations she is discovering.
After she comes, having no idea what happened to her, I suggest she return the favor. She has no idea what a dick is as she innocently undoes my pants and allows me to show her how to give me a special oral message.
After sucking on it she is shocked to see the stress come flying out of my cock and is amazed at the new things she is discovering.
I then have her dress and allow her to remember everything, but forget the entire session. Once again we finish with Stephie feeling deeply relaxed and ready to return, with no memory of my special orgasmic relaxation techniques.
Format: mp4
Resolution: 1920 x 1080
Duratio: 00:35:48
Size: 1079 Mb