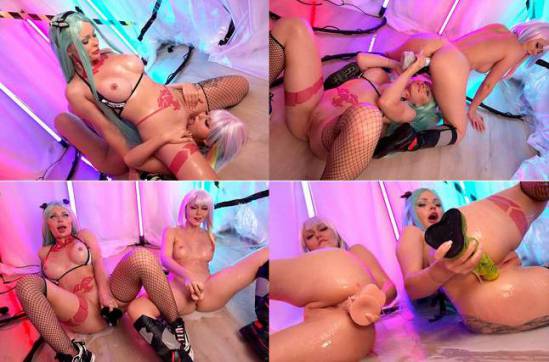 Sia Siberia – Cyberpunk Sluts Lucy And Rebecca
My dirtiest Cyberpunk video! Lucy and Rebecca are sooo naughty and getting crazy from rivers of cum on their bodies! Pussy and anal fuck, cum on bodies, squirts! Oh, so dirty, so nice! Let's watch the full!
In my new cosplay video, you can see me as Rebecca and my beloved Sia_Siberia as Lucy from Cyberpunk: Edgerunners
Hey Choomba! Cyberpunk is back! Are you ready to dive into the kinky cyberspace of debauchery and pleasure? After all, an incredible clash between two of the hottest cyber waifus awaits you! Rebecca and Lucy are here! Their nipples are swollen and their pussies are exhausted with lust!
Watch them playfully oil up and kiss as the neon lights reflect off their incredibly sexy bodies! Mesmerizing, isn't it? Or maybe you want to see Lucy lick Rebecca's pussy while she sits on Lucy's face? Or how Lucy diligently fucks Rebecca's wet pussy, using a big cyber dildo and waiting for the creampie to spout from Rebecca's pussy into her mouth. After which these cybersluts change places! And now Rebecca is licking Lucy's pussy, fucking her with a dildo, waiting for the creampie to spill into her mouth! Mmm, yummy!
But this is only the beginning because Rebecca and Lucy still have something to surprise you. And now they are already lying on the floor, fucking their hot pussies to simultaneously get an orgasm and make themselves squirt, and bukkake splashes into them from both sides. An incredible spectacle, they won't show this on TV or in games!
And finally, Rebecca and Lucy want you to see their love for anal! They ride dildos with their asses, their bodies are covered in creampie and oil, and their pussies are open for your eyes! What could be better? That's right, it can only be better if they lie down in a puddle of creampie, ass to ass, and fuck themselves thoroughly in the ass for you! Look! Do you see with what pleasure they do this? Now fill their asses with creampie! And watch them get squirted with bukkake while they kiss, lick, and get covered in that creampie!
Format: mp4
Resolution: 1920 x 1080
Duration: 00:31:08
Size: 1166 Mb