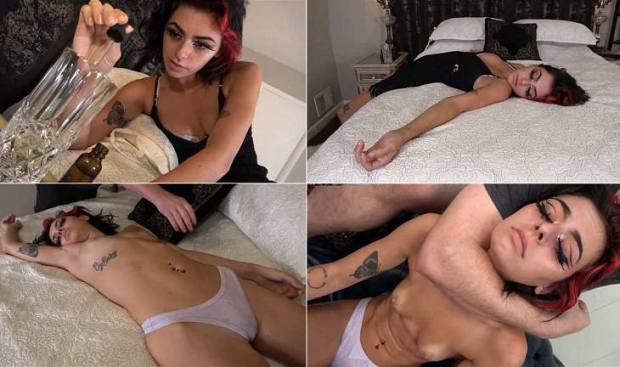 Sexy new Velvets Fantasies model Kilo Revenge is super stressed. She has been trying really hard to make a name for herself among Miss Velvets's girls, but it's hard work and she hasn't really been sleeping well. No worries at all, though.Jacquelyn isn't known as the Nap Queen for no reason! She gives Kilo some sleepy assistance to help her rest!
But Jacquelyn doesn't tell Kilo how much to use.so the inexperienced newcomer downs waaaaay too much! When James Barbatus gets ready to settle down for the night, he finds Kilo totally unconscious! He tries to wake her, but barely succeeds in getting her to respond. When she finally does manage to get a few words out, it becomes clear that she's not in any distress. In fact, she wants him to knock her out again!
James is happy to oblige, of course.and he KOs her again a variety of methods. But eventually, James needs his bed back.so he throws Kilo over his shoulder like a bag of rice and carries her to the couch! After a bit more extensive rag dolling of this flexible sleepy play thing, James then takes her to the other guest bedroom to take her time sleeping it off!
Format: mp4
Resolution: 1920 x 998
Duration: 00:16:24
Size: 596 Mb