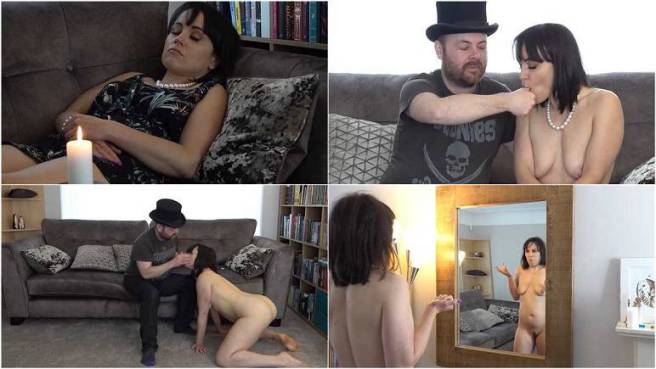 An awesome awesome session to round out the month. Lucy's a HypnoBirthing and Yoga tutor, so has definitely had practice in entering meditative trance states, it certainly helps her drop deeply in this session!
Lucy's chatty, elegant, sophisticated and beautiful, and it's really gratifying to see her going blank, becoming slutty, or submissive on command. I'm pretty sure she's genuinely quite subby, as every time I had her collared or told her to feel obedient, she'd very meekly kneel, spread her legs wide, and assume submission positions. Hot!
Pretty steamy shoot with lots of fun mental changes and slave training sections.
Definite Directors Choice. Enjoy!
00:10 Introducing Lucy Love
04:35 Someone's already resting…
04:55 Induction
16:40 Floating Hand, Melting Mind
20:45 Vanishing Sensations
22:30 Eye-Check
22:45 Doorbellterruption and getting back on track
26:30 Freeze Trigger in Trance as I pose her
27:05 Ragdolling and dropping deeper
29:10 Trance memories missing… and feeling skeptical
30:15 Freeze games
31:40 Rest Trigger Testing
32:20 Mental Blindfold
33:30 Hands Bound
35:05 Feet Stuck and moving that freeze upwards
36:45 Fully Frozen Body and Mind
37:35 Posing Frozen Lucy
39:45 Adjustable Tickling
40:15 Unable to say her name
41:00 Believes her name is "Slave"
43:45 Legs won't stop spreading
48:40 Misbehaving Gloves
53:00 Mindless Automatic Posing
55:45 How d'you feel? Deeply Mesmerised
56:45 Clothes are disgusting! Nudity is Natural
1:00:45 Oral Fixation
1:03:40 Adjustable Styles of Sucking
1:06:45 Mindless Pleasure Increase
1:10:00 Mindless SlaveGirl Mantras & Collaring
1:11:40 Pendant Pleasure Training
1:17:15 PetGirl Lucy Kitty Play
1:23:15 Poseable Nude Lucy Doll
1:26:30 Triggered Dance Mode
1:27:45 Memory Play: Doesn't recall undressing
1:29:30 Thinks the mirror is faulty
1:31:45 Pendant Training seems to be effective!
1:36:15 Outfit Change to Leather
1:36:30 Guy in a girl's body
1:40:30 Edging Frozen Brainwashed
Format: mp4
Resolution: 1920 x 1080
Duratio: 01:40:58
Size: 724 Mb