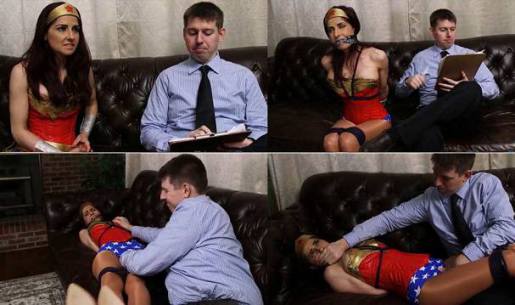 Wonder Hannah (Hannah Perez) has been getting herself into trouble repeatedly. It seems like she is always fighting off bad guys, ending tied up and gagged, helpless to the villain's power. Today, she has come to her for some help with her situation.
She begins describing her plight to the doctor. Little does she know, he may be a bad guy with ulterior motives himself. In confidence, she explains what's been happening, and the "doctor" offers the suggestion of trying a kind of cognitive behavorial therapy. The theory is to confront her fear of the situation by experiencing it in a safe environment — the doctor's office. Wonder Hannah agrees, and the doctor simulates the experience by tying and gagging her.
He lays her down on the couch and begins to take notes. But as the superheroine gets comfortable, she puts her legs in his lap and begins rubbing them against him. Eventually, the pressure becomes too great and he starts fondling her legs. Wonder Hannah becomes turned on, bringing her to climax as she struggles against the binds and gag.
The doctor removes her gag. He puts his hand over her mouth, and Wonder Hannah, feeling invigorated, succumbs to the powers of therapy.
Format: mp4
Resolution: 1920 x 992
Duratio: 00:15:34
Size: 561 Mb