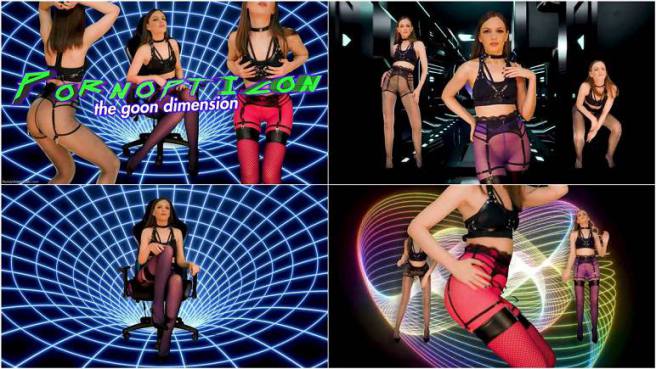 Get ready for an out-of-this-world experience as you journey into the cosmic dimension of the goon cultists, where the mysterious Pornopticon looms over it all, controlled by the seductive and all-powerful AI, Whorelord Waltrude.
She is using this power to ultimately enslave all men in the galaxy, and you are one of her many victims.
She teases you mercilessly with her sexy legs while explaining her plan and how futile it is to resist. She knows your weaknesses and she knows exactly how to control you. You try to fight it but she weakens you more and more.
You close your eyes but the Pornopticon burns its neon beams of hardcore smut straight into your retinae, all while that sultry voice of hers penetrates your mind, melting your brain out your dick:
"I have studied the gooners on your planet and have discovered that they are the easiest to break due to their porn addiction. And you are one of the weakest of them all.
Submit to me, be a good boy, and let me break you completely. Let me make you a submissive and helpless gooner."
You feel the collective energy of all of the gooners around you, and you experience a level of sexual overstimulation that is beyond anything you have ever known.
The Pornopticon overloads your goonbrain with all the most explicit, twisted blowbang porn in the universe at once, turning you into a drooling mess.
Nnnnggghh! Speaking in goonbabble tongues and drooling all over your depraved goonstick, you moan like a filthy pornwhore, but you still want more!
Just a little bit longer and you'll no longer have the option to be anywhere else. Just take it all in.
Everything that you've ever fantasized about.
Everything you've ever masturbated to.
Every dirty depraved thought you've had through your entire life.
It is a reality here.
This is part 6 of a SERIES
Format: mp4
Resolution: 1920 x 1080
Duratio: 00:16:59
Size: 509 Mb