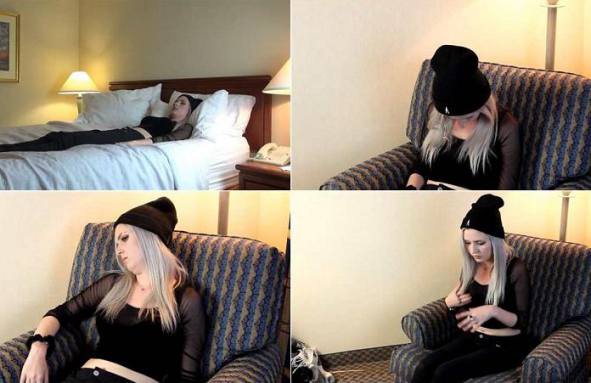 In this hypnosis session we feature a brand new volunteer in Alexis. This is a must have for fans of the series. She took to my suggestions incredibly well and has some of the best responses yet. I also managed to get a lot of content into this shoot with several suggestions being reused throughout the video. It's the first shoot to feature two cameras as well which offers a much more seamless viewing experience.
Highlights include both robot and chicken transformations that are triggered repeatedly throughout the video, a number of freeze scenes, a lot of eyerolling, just to name a few. This shoot really has everything.
I didn't record the first part of the induction on this session so I included an additional induction at the end of the video in which her feet are visible.
Full list of suggestions:
Induction has already been started
Several reinductions and blank trigger
Can't remember name or number
Becomes frozen when triggered
Eyerolling when her mind is blank
Freezing and posing
Mouth and tongue feels numb
Bra and panties feel itchy
Becomes a chicken when triggered
Becomes a robot when triggered
Dances as a robot
Becomes a mindless zombie
Can't resist the pocket watch
Mind drained by the camera lens
IQ drops when triggered
Becomes a typical airhead when triggered
Becomes rigid when triggered
Experiences pleasurable handshake
Extra induction with feet visible
Format: mp4
Resolution: 1280 x 720
Duratio: 01:25:56
Size: 1154 Mb